Hadley Viscara - 6 videos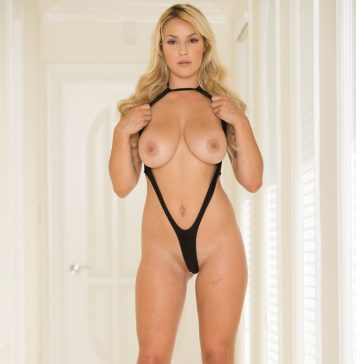 Aliases:
Hadley Mason
Ethnicity:
Caucasian
Body type:
Average
Measurements:
36D-28-36
Bra cup size:
36D
Boobs:
Real/Natural
Tattoos:
Left Shoulder; Behind Left Ear; Behind Neck; "Stay Strong" On Inside Right Forearm; Rose On Left Hip
Piercings:
No Piercings
Biography:
Hadley Viscara was born on May 11, 1994, in Omaha, Nebraska. She grew up in a Christian family in a very small town. Her father was very strict and she often had arguments with him (he was even going that far that had no problem hitting his children with a Bible). Hadley was attending a school out of her town (the town was so small that it did not have school) and was a bullying victim. When she was sixth grade her mother decided to home-school her because Hadley could no longer stand the bullying.Hadley had sex for the first time when she was sixteen and became a very promiscuous person who slept with everyone (boys and girls). Hadley started her porn career in 2017 (age twenty-three) but she wanted to do porn ever since she was 18 years old. Before she fully devoted to her porn career Viscara was a web-cam girl.As a teenage girl she used to watch porn mostly in the BDSM genre and she first discovered these videos on kink.com. Last year she submitted her application to Kink three times but they never responded. Afterwards, she got invited to an event called The Phoenix Forum in Phoenix (she lived there at the time). There she met James Deen who introduced her to Fivestar, who is a director for Kink. So Hadley went to her and told her about her application and that she wanted to film a scene for Kink. Fivestar gave Hadley her email address and they discussed the possibility in May 2017. She shot her first scene for Kink and right there and there Viscara realized that she truly enjoyed having sex in front of people. Hadley was sure that she chose the right thing to do for a living. Hadley has a brief career during which she has shot numerous sex scenes in genres such as anal, teen, POV, interracial, blowjobs and hardcore.Hadley is a lovely blonde with naturally big breasts (she claims that prayers to God helped her breasts grow) and no plastic surgeries. She describes herself as a person who falls in love with people's souls (she sees no gender when comes to love but still doesn't label herself as gay). Hadley is attracted to humble and nice people who are also kind.
Date of birth:
May 11, 1994
Age:
28 years old
Birthplace:
Omaha, Nebraska, United States
Hair color:
Blonde
Eye color:
Green
Height:
5 ft 4 in (162 cm)
Weight:
146 lbs (or 66 kg)
Videos With Hadley Viscara