Joslyn James - 2 videos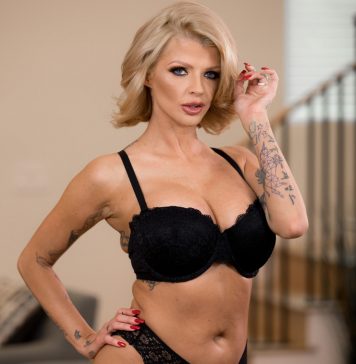 Aliases:
Joclyn James, Joshlyn James, Jocelyn James, Joselyn James, Ms. James, Kapri Cummings, Capri Kummings, Veronica Subick
Ethnicity:
Caucasian
Body type:
Average
Measurements:
34DD-27-39
Bra cup size:
34DD
Boobs:
Fake/Enhanced
Tattoos:
"Jupone" left breast; left and right of pubes; 3 pairs of kanji down spine; baby, lion and angel lower back (baby and angel converted to roses 2009); Buddha inside left forearm; "Hooligans" top of left wrist; top of right wrist; script on sides of left rib
Piercings:
No Piercings
Biography:
Joslyn James was born on November 22, 1977 in upstate New York, in Mayfield and was raised in Adirondack. As soon as she graduated from college, she rose to stardom in the adult entertainment industry, shooting about twenty films. Her career began when she was thirty years old (2007), a bit later than what most porn stars begin their careers. Joslyn has been actively filming for ten years in which she showed her versatility in genres such as hardcore, blowjobs, big boobs, toys, bondage, big cock and masturbation. Some of her most famous films are Big Breasted Nurses (2007), Busty Office MILFs 3 (2012), Napali's EE Dream Babes (2013).Joslyn also had a mainstream career, and performed in big television shows, appeared in magazine and promotional appearances such as VH1, "Celebrity Cheaters", Vanity Fair, Allure Magazine, Playboy, Howard Stern (1994), E! Entertainment TV, The Travel Channel, Dr. 90210 (2004), Sin City Diaries (2007), elimiDATE (2001), Gene Simmons: Family Jewels (2006), Queer Eye (2003), World Series of Poker (2003), 944 Magazine and Las Vegas Weekly. She took part in Extra (1994), The Joy Behar Show (2009), Fox News, CNN, Geraldo at Large (2003), Inside Edition (1988), Playboy Online, and Hustler Magazine.Joslyn JamesJoslyn became even more famous when it was announced that she was one of Tiger Wood's "eighth" mistresses and she has stated that she considers herself Woods' 'full-time mistress.' Once everybody found out about Tiger Woods alleged infidelities, Joslyn was no longer secretive about their affair and allegedly told one of her friends about "all the freaky s**t Tiger does in bed". In October 2010, Joslyn James charged another Tiger's mistress and the reason was "life threats".She has several tattoos including 5 lines of Asian characters (12 total), "Jupone" on her left breast; small symbols left and right of her pubes; three pairs of kanji down her spine; baby, lion and angel lowerback (baby and angel converted to roses); Buddha inside her left forearm; "Hooligans" on the top of her left wrist. Her breasts are enhanced with silicones and her current size is 34DD.
Date of birth:
November 22, 1977
Age:
43 years old
Birthplace:
Adirondack, New York, USA
Hair color:
Brown
Eye color:
Blue
Height:
5 ft 4 in (163 cm)
Weight:
121 lbs (55 kg)
Social networks:
Instagram
Videos With Joslyn James